Film Festival Update:

Congratulations to Danica McKellar for winning the "Best First Time Director" Award this May at the Hollywood Underground Film Festival!
And 'speechless...' won the "Best Short" award at the California Independent Film Festival in November, hosted by Martin Landau!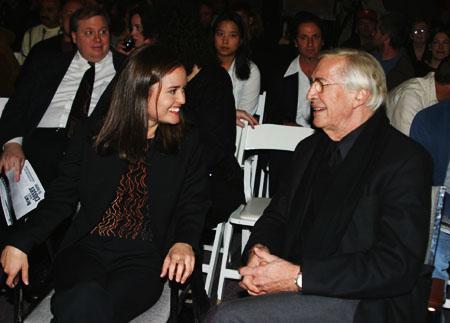 Danica McKellar with Martin Landau at the awards ceremony.
Photo by Dane Andrew/Total Entertainment News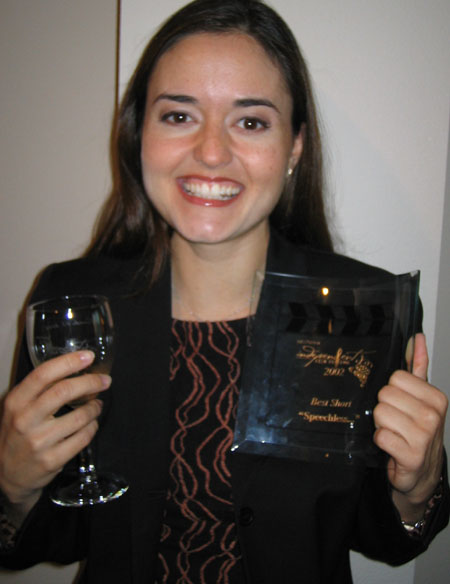 Danica with her Slate Award for Best Short.

Also: See "speechless..." on Delta Airlines as part of their inflight programming, March 1- May 31st 2003!
Other Film Festival News:
speechless... has now screened at:


Cinequest 12 - San Jose Film Festival
Saturday, March 2 @ 4:45pm
Sunday, March 3 @ 4:15pm
In both cases, "speechless..." will be preceding
a documentary film called, "West 47th Street".


Hollywood Shorts
hosts its 4th Annual WOMEN IN FILMMAKING Festival.
Sunday, March 17th at 5pm


San Diego International Film Festival 2002
A Shorts Night: 7pm on Saturday, April 6th


Hollywood Underground Film Festival
May 9-16, 2002
The "speechless..." trailer can be seen on their site!

Upcoming:

Beverly Hills Film Festival
Date TBD